Personal Injury, Medical Malpractice/Accidents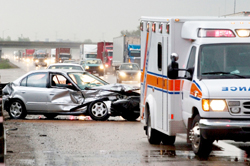 The Law Office of Michael Camporeale, P.C., is a general practice firm which practices in the area of personal injury/ medical malpractice.

If you or a loved one has been injured in an accident or as a result of the negligence of a doctor or hospital please contact my office for a free consultation.

The law limits the time one has to file an action in order protect their rights. Therefore, it is imperative that one starts the process, before it is too late.
The law office of Michael Camporeale handles all type of accident cases including car accidents, pedestrian knock downs, slip and falls, trip and falls, dog bites, work site accidents, wrongful deaths, and any other type of accidents caused by the negligence of others.
Call today for a free consultation. Speak to an attorney who can protect your claim and rights before you speak to any one including any insurance representative.